OTISK (Imprint)
Palaeolithic Site of Pre-instrumental Music for symphonic orchestra
(2004)
First part of the trilogy: OTISK, ZVĚROHRA, VÁBENÍ
Duration: 27'
Jointly commissioned and premiered by the Caramoor Festival (St. Lukes Orchestra - New York), the Colorado Symphony Orchestra (Denver) and the Toronto Symphony Orchestra (Canada) conducted by Peter Oundjian, 2004.
Instrumentation: 1 piccolo, 2 flutes, 2 oboes, 1 cor anglais, 2 B flat clarinets, 1 bass clarinet, 2 bassoons, 1 double bassoon, 4 horns in F, 2 trumpets in C, 3 trombones, 1 tuba , 5 percussions, Violins I, Violins II, Viola, Violoncello, Double Bass (Minimum strings: 6-6-6-5-5)
Percussions in detail:
- Perc.1: bass drum, vibraphone, snare drum, claves, slide whistle (app.a 30 cm), vibraslap, tambourine, wood block, guiro
- Perc.2: 2 tom-toms (low and medium), bongo, snare drum, 3 gongs ageng (upwards: low E, low F #, low B), slide whistle (app. 30 cm), tambourine, wash board, Kazoo, wood block
- Perc.3: large tam-tam, bongo, 2 pebbles (20 cm), slapstick, tambourine, kazoo, rattle
- Perc.4: 2 timpani (F-B, C-F), 2 congas, suspended cymbal, 2 tom-toms, slapstick, 2 pebbles (20 cm), tambourine, maracas, kazoo
- Perc.5: marimba, 2 congas, suspended cymbal, wood chimes, 2 pebbles (20 cm), tambourine, kazoo
Publisher: The Henry Lemoine Editions display more information on this work on
http://www.henry-lemoine.com/fr/catalogue/compositeur/maratka-krystof
For more information, contact:
Henry Lemoine Editions – Paris
Mrs Laurence Fauvet - Rental and purchase of score
orchestre@editions-lemoine.fr / +33 (0) 1 56 68 86 75
Jobert Editions
Henry Lemoine Editions – Paris
Mr. Benoît Walther - Promotion and distribution service
bwalther@editions-lemoine.fr / +33 (0) 1 56 68 86 74
Jobert Editions
Recording:
Extract from the score: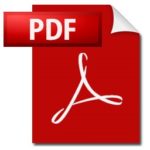 Notes on the work: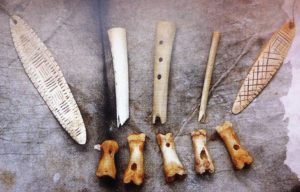 Always fascinated by the search for the origins of music, Kryštof Mařatka began to build a work inspired by a vision of what it could have been in the Paleolithic era. Thus was born Otisk (Imprint in Czech).
Unlike painting, whose quality of conservation offers the contemporary observer a real indication of the realized artistic work, the imprint left by the music is limited to the vague contours of mysterious fragments of instruments, leaving the observer in the deepest uncertainty as to their use. The mystery is at its peak when it comes to the use made by the Palaeolithic man of the most natural instrument: his voice.
Faced with the impossibility of retracing the contours of the music as it was then, for a lack of clearly defined imprints, the composer finds himself totally free to give a vision of it, his own vision
Kryštof Mařatka chose to organize his score as a site on which would be placed different fragments of music corresponding to different periods of the Palaeolithic, different imprints offered to the contemporary observer.
However, Kryštof Mařatka does not set off using these fragments as elements of a sequence that would be driven by an artificial logic. On the contrary, he is exposing them distinctly, while maintaining a permanent tension between each one of them, through intermezzi, in a progression that allows the observer to remain in a temporal dimension, and the work to realize itself.
The writing of each of these fragments followed the composer's meticulous study of the research undertaken by palaeontologists. Each fragment is in fact a sound and rhythmic reflection, sometimes of remains of discovered instruments - phalanges of reindeer, scrapers, ocarinas, bullroarers, various percussions... -, sometimes of gestures as they were revealed by the researches of palaeontologists (stone cutting, percussion on stalagmites and stalactites, probably the oldest instruments in the world) and of which Kryštof Mařatka is convinced that they were sources of invention in the field of percussion.
The very unity of this completed work, its meaning, will reside at the point of equilibrium between documented, yet very imaginary vision, expressed in a language peculiar to the author, and something that is more akin to the descriptive mode of a documentary.