VÁBENÍ (Attraction)
Ritual of Prehistoric Fossils of Man
for mixed choir and symphony orchestra
(2009-2011)
Third part of the trilogy: OTISK, ZVĚROHRA, VÁBENÍ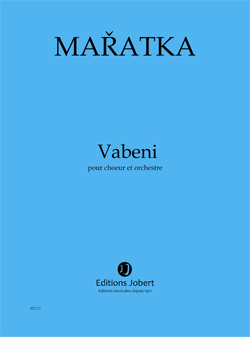 Movements:
- I. V
- II. Á
- III. B
- IV. E
- V. N
- VI. Í
Duration: 52'
Commissioned by the Tansman Festival in Lodz, the Toronto Symphony Orchestra and the Banque Populaire Corporate Foundation.
Instrumentation: Mixed choir (60-70 voices, each singer will need a small plastic Kazoo), 1 piccolo, 2 flutes, 2 oboes (each also playing a 30 cm slide whistle), 1 cor anglais (playing also a 30 cm slide whistle), 2 clarinets in B flat, 1 bass clarinet in B flat, 2 bassoons, 1 contrabassoon, 4 horns in F, 2 trumpets in C, 3 trombones, 1 tuba, 5 percussions, violins I, violins II, violas, violoncellos, double basses (strings minimum: 6-6-6-5-5)
Percussions in detail:
Perc.1: bass drum, vibraphone, snare drum, vibraslap, tambourine, guiro, wood block (4 heights), 2 tubular bells (high E flat, B flat a quarter lower)
Perc.2: 2 tom-toms (low and medium), bongo, snare drum, 3 gongs ageng (upwards: low E, low F #, low B), wood block, tambourine, washboard
Perc.3: tam-tam, bongo, 2 pebbles (app. 12 cm), slapstick, tambourine, claves, rattle, jingle bells
Perc.4: 2 timpani (F-B, C-F), 2 congas, suspended cymbal, slapstick, 2 pebbles (app. 12 cm), tambourine, maracas
Perc.5: marimba, 2 congas, suspended cymbal, wood chimes, 2 pebbles (app. 12 cm), tambourine, metal chimes
Premiere: Schola Cantorum Gedanensis Choir (Jan Lukashevsky), Wroclaw Philharmonic Choir, Sinfonia Varsovia, Kryštof Mařatka – conductor
Publisher: The Henry Lemoine Editions display more information on this work on
http://www.henry-lemoine.com/fr/catalogue/compositeur/maratka-krystof

For more information, contact:
Henry Lemoine Editions – Paris
Mrs Laurence Fauvet - Rental and purchase of score
orchestre@editions-lemoine.fr / +33 (0) 1 56 68 86 75
Jobert Editions
Henry Lemoine Editions – Paris
Mr. Benoît Walther - Promotion and distribution service
bwalther@editions-lemoine.fr / +33 (0) 1 56 68 86 74
Jobert Editions
Recording:
Schola Cantorum Gedanensis Choir (Jan Lukashevsky) / Wroclaw Philharmonic Choir / Sinfonia Varsovia/ Kryštof Mařatka, conductor

Extract from the score: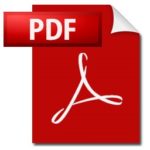 Notes on the work:
From the dawn of humanity, we see in Man the desire to go beyond death and to touch transcendence through creative acts. Prehistoric art represents a fascinating treasure of artistic expressions: a testimony to the unlimited fantasy of the human mind that reacts to its own existence through unexpected and innovative ways.
Vábení is the third part of a trilogy freely inspired by prehistoric art. A trilogy that has become a kind of "Symphony of the Old World" whose first work is OTISK for symphonic orchestra, the second ZVĚROHRA for soprano and orchestra and the third VÁBENÍ for choir and orchestra. Otisk (2008) reflects the sounds of Paleolithic musical instruments. Zvěrohra (2008) reflects the birth of human language and the first vocal expressions. Vábení (2009 - 2011) is a synthesis of the two previous concepts and this union is also expressed in the three titles: Otisk ("Imprint" in Czech: a masculine noun), Zvěrohra (in Czech, a feminine name for "Game of beasts"), Vábení ("Appeal", in Czech, a neutral noun).
At the heart of the Triptych lies a sensation of unparalleled beauty of the authentic expressions in the face of existence, expressions which are liberated from temporary tendencies of any given civilisation's concepts of the "beautiful". And it is precisely this absolute freedom that is the key to VÁBENÍ.
The musical framework of the work is woven like a ritual lived in real time, like a ceremony we are witnessing, from its beginning to its end. The six movements represent key moments that we have to go through during the work and which are based on the six letters of the title: v á b e n í. These movements must be clearly separated by a palpable pause.
The choir is the work's soloist and has a crucial role. His virtuoso character sculpts dramatic situations, evoking archaic beings whose fossils are resurrected and speaking through intense rituals.
To be faithful to the right and convincing musical character, it will sometimes be necessary to go beyond the "usual" singing and accompany the singing with theatrical elements. Some techniques are inspired by the vocal processes of present-day ethnic groups whose traditional art has obvious similarities with prehistoric art. These techniques can cause coughing and other reactions of the vocal tract. These "noises" are not disturbing here: quite the contrary, they emphasize the harsh character of the work. The function of the choral part's text is pure sound and has no meaning. Its pronunciation is relative and it is possible to adapt it to the natural character of the interpreters. The main role of the choir is emphasized by its placement on stage, ideally on the left hand side of the conductor, closest to the public and with the orchestra more discreet, on the right. The indications of the orchestra's dynamics are also relative and will have to be adapted to the execution parameters to preserve the dominant aspect of the choir. If the situation requires it, a discreet amplification of the choir is possible.
The work is posthumously dedicated to Václav Havel, as an expression of gratitude and respect, but also as an imprint of the attraction of human creative forces showing the same desire to grasp the existence, both of prehistoric times and of our days.