LUMINARIUM
Mosaic of Twenty-Seven Fragments of World Music
concerto for clarinet and orchestra
(2002)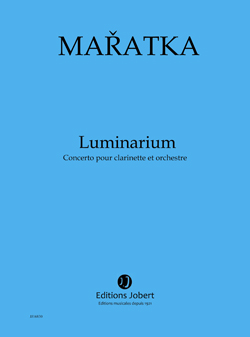 Movements:
- I
- II
- III
- IV
- V
- VI
- VII
- VIII
- IX
Duration: 30'
Commissioned by Henry Selmer-Paris.
Grand Prize and Audience Prize of the Alexandre Tansman Competition in 2006.
Instrumentation: B flat clarinet, 1 flute (muta piccolo), 1 oboe, 1 clarinet B flat (muta flute), 1 bassoon, 1 horn in F, 1 percussion, strings (minimum 4-4-4-3-2)
Percussions in detail: Bass drum, bongo, 2 congas (treble, medium), snare drum, tom-tom (medium), tam-tam (small), high-hat, tubular bell B flat (played with a small hammer metal), jingle bells, wood block, rattlesnake, maracas, wood chimes
Premiere: Michel Lethiec and the Poitou-Charentes Orchestra at the Sully-sur-Loire Festival in June 2002
Publisher: The Henry Lemoine Editions display more information on this work on
http://www.henry-lemoine.com/fr/catalogue/compositeur/maratka-krystof

For more information, contact:
Henry Lemoine Editions – Paris
Mrs Laurence Fauvet - Rental and purchase of score
orchestre@editions-lemoine.fr / +33 (0) 1 56 68 86 75
Jobert Editions
Henry Lemoine Editions – Paris
Mr. Benoît Walther - Promotion and distribution service
bwalther@editions-lemoine.fr / +33 (0) 1 56 68 86 74
Jobert Editions
Recording:
Extract of the score: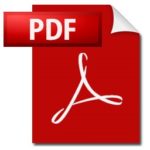 Notes on the work:
Luminarium, concerto for clarinet and orchestra, presents itself as a kaleidoscope of harmonies and sounds from around the whole world, a sort of brief anthology that finds its inspiration in musical expressions from various regions of the Earth.
Rather than the development of a single story, the concerto seems like a documentary that offers to observe a fascinating diversity of multiple musical languages. The architecture of the piece is borne by nine movements, each divided into three parts: in all, twenty-seven fragments inspired by twenty-seven different countries.
This synthesis creates a moving sound universe conveyed by the clarinet which, through its journey, "illuminates" various parts of the globe as evoked by the title of the work.
I Bua' (Indonesia), rite of the rising sun
  Kushnaya(Uzbekistan), improvisation
  Gheg(Albania), funeral song
II Sitot me soi (France), troubadour song
   Madrosh (Syria), liturgical chant
   Noh (Japan), interjection of Noh theatre
III Beranca (Macedonia), dance
    Ngapa (Australia), Rain Dreaming Ceremony
    Nira (Morocco), improvisation
IV Hat chèo (Vietnam), sorcerer's song from hat chèo theatre
    Maome (Solomon Islands), funeral cycle
    Chinos (Chile), song of the alféreces
V Rdo-rje'jigs-byed dbang (Tibet), Buddhist chant
   Dudka (Belarus), improvisation
   Pane (Bohemian), liturgical chant
VI Mané igini kamu (Papua New Guinea), song to wash a child
    Nipaquhiit (Arctic), vocal games
    Avaz (Iran), Persian song
VII Skutchna (Yiddish), Jewish dance
     Czardas (Moldova), dance
     Sousta (Greece), dance
VIII Pasi but but (Taiwan), prayer song for an abundant millet harvest
      Ghau kilori (Melanesia), Aeolian organ for the immersion of a corpse into the sea
      Leiskis leiskis saulela (Lithuania), harvest song
IX Duduk (Turkmenistan), improvisation
    Sampatye (Senegal), song of the initiated young girls
    Xwââxâ (New Caledonia), ritual speech