VAKERKEÏNEA
string trio
(2001)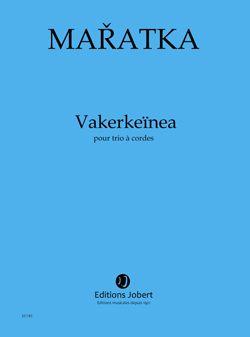 Duration: 23 minutes
Commissioned by Prince Edmond de Polignac
Premiere: Saskia Lethiec (violin), Karine Lethiec (viola), François Salque (violoncello), August 2001, Festival des Sept Chapelles
Publisher: The Henry Lemoine Editions display more information on this work on
http://www.henry-lemoine.com/fr/catalogue/compositeur/maratka-krystof
For more information, contact:
Henry Lemoine Editions – Paris
Mrs Laurence Fauvet - Rental and purchase of score
orchestre@editions-lemoine.fr / +33 (0) 1 56 68 86 75
Jobert Editions
Henry Lemoine Editions – Paris
Mr. Benoît Walther - Promotion and distribution service
bwalther@editions-lemoine.fr / +33 (0) 1 56 68 86 74
Jobert Editions
Extract from the score:

Notes on the work:
VAKERKEÏNEA is an archaic epic engraved on a reef of the Greek island Amorgos in a language that remains cryptic. The secret can nevertheless be clarified, the language being freely applicable to music according to two systems of musical terminology (of its enharmonic eventualities and its alterations): ut, ré, mi, fa, sol, la, si, do and c, d, e, f, g, a, h. Each word can thus be transposed into sound, allowing for a "translation" of the entire poem into music. The words then arise from their silence.
The Amorgos Epic is composed of three parts, three "narratives" probably retelling three different human stories, each of which will identify with one of the three instruments. Together, they create a logical and universal harmony.
The characteristics specific to each instrument are articulated around two axes:
The modal choice of heights for the entire work (with a few exceptions)

The chord change of one of the four strings of each instrument: (violin F, D, A, E / viola C, F #, D, A / violoncello B flat, G, D, A)
Vakerkeinea thus becomes the musical transcription of an epic that actually covers a few square meters of a steep rock. The inscription closes with the word "vakerkeïnea", the only one to remain truly under the seal of the mystery. Indeed, according to the two selected systems of musical terminology, the letters "v" and "k" remain "untranslatable" into music.
The first sentences of each of the three parts of the epic are respectively attributed to the three instruments:
violin:

Simies fa lae hassiutut reg dis simias doa sol

viola:

Fi sgesso lu tge sadogagis ut doer, eas fislah gutegi

cello:

E sbemi blaes ai sefah readi, sai sfea islaes bmi fadisfaai se