THE FOUR LEGGED CROW
melodramatic farce for two actors and instrumental ensemble of 9 musicians,
based on texts by Daniil Kharms
(2006)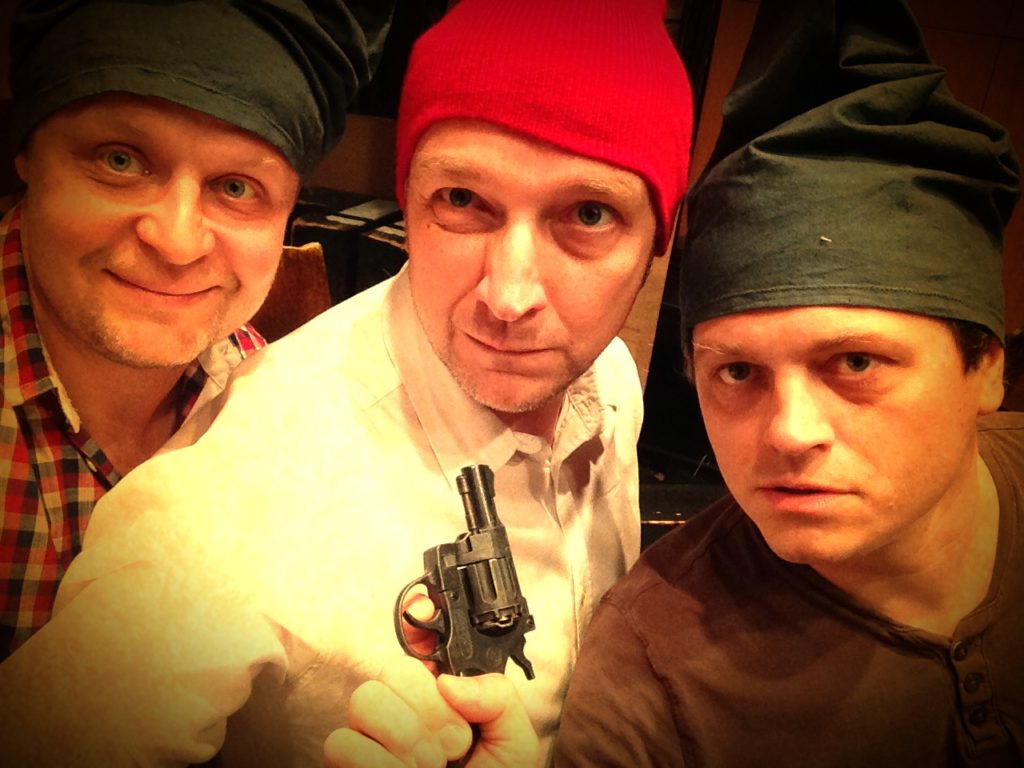 Available in French and Czech.
Duration: 1h15
Commissioned by the Radio France Présences Festival
Instrumentation: 2 actors, viola, double bass, accordion, horn, oboe, clarinet, piano, 2 percussionists
Percussions in detail:
- Perc.1: bass drum, snare drum, lion's roar, jingle bell, sand block, suspended cymbal, 30 cm slide whistle, crotales (B flat 1, B 1, E 2), high hat, tambourine, 2 pebbles the size of a hand, wood block, triangle, slaprtick, wood chimes, claves, vibraslap, rattle, maracas
- Perc.2: large tam-tam, 2 congas, 3 tom-toms, wind machine, suspended cymbal, washboard, 2 pebbles the size of a hand, tambourine, triangle, 30 cm slide whistle, crotales: the whole range, vibraslap, maracas, slapstick, B flat tubular bell, metal chimes, small altar bells
Additional musical objects for the actors and musicians:
1 Kitchen Timer (loud bell type), 1 megaphone, 1 apple, 1 notebook, 1 book, 1 bright red woolly hat, 8 kazoos, 1 small mouth harmonica, 1 police whistle, 9 black cloth bags the size of a head (to slide on the head, down to the neck), 8 cardboard tubes of kitchen towels (app. 20 cm / 5 cm), 8 noisy plastic bags, 5 bicycle bells, 10 small paper bags (to burst), 7 duck calls, each for a different animal: rabbit-kralík, duck-kachna, plover-kulík, lark-skřivan, wild boar-divočák, gallinule-slípka vodní, merle-kos, 2 reed flutes, 1 small red inflatable party balloon, 1 whistling baby rubber toy, 1 fake theatrical pistol (with 6 strokes).
Premiere: Alain Carré and Vincent Figuri (actors), Calliopée Ensemble, Kryštof Mařatka (conductor) - February 18th, 2007 - Présences Festival, Paris
Publisher: The Henry Lemoine Editions display more information on this work on
http://www.henry-lemoine.com/fr/catalogue/compositeur/maratka-krystof
For more information, contact:
Henry Lemoine Editions – Paris
Mrs Laurence Fauvet - Rental and purchase of score
orchestre@editions-lemoine.fr / +33 (0) 1 56 68 86 75
Jobert Editions
Henry Lemoine Editions – Paris
Mr. Benoît Walther - Promotion and distribution service
bwalther@editions-lemoine.fr / +33 (0) 1 56 68 86 74
Jobert Editions
Recording (French):

Alain Carré and Vincent Figuri, actors / Calliopée Ensemble / Kryštof Mařatka, conductor
Karl More Productions, Benjamin Bleton
Extract from the score: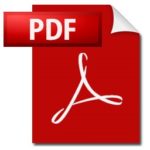 Notes on the work:
"The universe of 1h15 long show The Four Legged Raven is inspired by the violently subversive texts by Daniil Kharms, a Russian anti-establishment poet, victim at thirty-seven years only of the Stalinist repression, in the middle of the Second World War. His texts, full of dark humour and bitter mockery, show us a cruel and cynical humanity, fruit of the "dehumanization" which leads to totalitarian oppression, and which finds refuge only in the absurd, which fits perfectly into the great Czech tradition of Kafka or The Good Soldier Švejk."
Harry Halbreich
"With this work, we are immediately thrown into the absurd, at the fringes of surrealism, in the land of Dadaist poetry, but this climate - as pleasant as it is - quickly takes on a more disturbing colour to reveal a universe more political than dreamlike, more gloomy than funny, more disturbing than grotesque, more tragic than comic, the laugh is squeaky, the joke becomes chilling. And nobody remains insensitive to the facts, we are embarked on this tragedy until the very end, witnessing even to the trials and to History's deliriums. All participate in the action: the instrumental ensemble, whose musicians are also the actors of this society, just like the two reciters whose text is sometimes noted in a musical fashion. The pauses between the different parts of the work are scripted and controlled. No possible escape, the music is composed for the final applause and the show began in the hall before the audience arrived. We, the listeners-spectators, become witnesses to this drama without any possibility of escape, face to face with this violence.
"I did not want to make a melodrama where the text would be part of the music, I wanted the text to be the driving force, the guide; it is embedded in the music, it must always be understandable because it still has something to say to us today" specifies the composer whose work was as much musical as literary. "I made a collage of many texts read in French, English, Russian and Czech. The text of The Four Legged Raven is a mosaic of my knowledge of the Kharms's work. I used his poems, his notes, his diary, his short stories. I then wrote the music and worked on the score for a year. After thinking about it for 17 years!" And let us add that Kryštof Mařatka exercised absolute control over his work: from the arrangement of the text, the dramatic basis, the staging, the musical composition to the musical direction, at the helm of the Calliopée Ensemble on the day of the premiere for the Présences Festival, at Radio France, February 18th, 2007.
"A big part of me is in that work, and I didn't know what I would compose next, because for each work the subject is different. I like to surprise myself," says Kryštof Mařatka. The listener must accept this element of surprise, of questioning when listening to The Four Legged Raven, the resonances of which can be intimate and historical. Lifesaving writing overcomes distant, sometimes unhappy memories. At any moment, we can also afford to get lost vertically. Duration is horizontal, reverie is vertical, an escape to conscious time, to duration. Thus arise popular melodies, dances, marches, as a set of benchmarks that may occur through different sound moments of the work. These reveries open new doors, to indefinite and free spaces."
Rodolphe Bruneau-Boulmier