MELOPA
for harpsichord
(2008)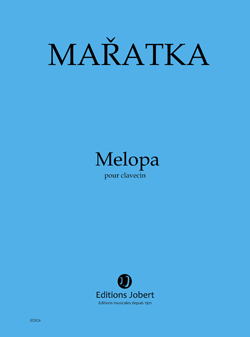 Duration: 9'
Premiere: Elzbieta Chojnacka (harpsichord), Paris CRR, April 2009
Publisher: The Henry Lemoine Editions display more information on this work on
http://www.henry-lemoine.com/fr/catalogue/compositeur/maratka-krystof
For more information, contact:
Henry Lemoine Editions – Paris
Mrs Laurence Fauvet - Rental and purchase of score
orchestre@editions-lemoine.fr / +33 (0) 1 56 68 86 75
Jobert Editions
Henry Lemoine Editions – Paris
Mr. Benoît Walther - Promotion and distribution service
bwalther@editions-lemoine.fr / +33 (0) 1 56 68 86 74
Jobert Editions
Recording:
Extract from the score:

Notes sur l'oeuvre :
In 2008, I had the opportunity to meet the harpsichordist Elzbieta Chojnacka, and this meeting led to the creation of Melopa, two years later. It was in Bydgoszcz, Poland, where I spent three days in November in a luxury apartment without heating, dominated by a great harpsichord. The icy atmosphere, the cold and the physical shudder forced me to warm myself by the only means possible: playing the harpsichord, tireless and fast, for prolonged periods. It is this experience that has given the work its absurd character: the "mélopée", normally a melismatic song, is transformed here into a frantic, repetitive, haunting and unpredictable gallop with a mechanical virtuosity that aspires only to flee towards warm and contemplative landscapes." K.M.