FABLES  
string quartet n° 1, inspired by La Fontaine's Fables
(1996)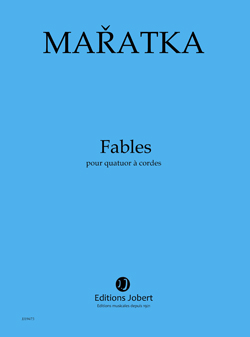 Movements:
- Book I
- Book II
Duration: 15 min.
Commissioned by Evian-Bordeaux String Quartet Competition, 1997, compulsory work on the 2nd round
Publisher: The Henry Lemoine Editions display more information on this work on
http://www.henry-lemoine.com/fr/catalogue/compositeur/maratka-krystof
For more information, contact:
Henry Lemoine Editions – Paris
Mrs Laurence Fauvet - Rental and purchase of score
orchestre@editions-lemoine.fr / +33 (0) 1 56 68 86 75
Jobert Editions
Henry Lemoine Editions – Paris
Mr. Benoît Walther - Promotion and distribution service
bwalther@editions-lemoine.fr / +33 (0) 1 56 68 86 74
Jobert Editions
Recording:
Extract of the score:

Notes on the work:
The quartet is inspired by Jean de La Fontaine's Fables. The two separate movements are each composed of varied and contrasting sequences originating from the fables' texts. In spite of this fragmented form, the sequences are linked without interruption and create the relief of a continuous musical discourse. A single pause separates the two movements, Book I and Book II.
To facilitate playing quarter tones, some of the violin strings are dropped by a quarter of a tone (the 1st violin lowers the G and D strings, the 2nd violin lowers the A and E strings). The violoncello lowers the D string a minor third below. The actual sounds are indicated on the full score and on the bottom stave of the separated parts. The main top stave of the separated parts refers to the fingering, thus simplifying the reading.