DOLMEN
for solo cello
(2011)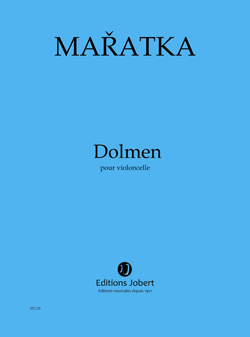 Duration: 6'
Commissioned and premiered by Yan Levionnois, St. Denis Festival, 2012
Publisher: The Henry Lemoine Editions display more information on this work on
http://www.henry-lemoine.com/fr/catalogue/compositeur/maratka-krystof
For more information, contact:
Henry Lemoine Editions – Paris
Mrs Laurence Fauvet - Rental and purchase of score
orchestre@editions-lemoine.fr / +33 (0) 1 56 68 86 75
Jobert Editions
Henry Lemoine Editions – Paris
Mr. Benoît Walther - Promotion and distribution service
bwalther@editions-lemoine.fr / +33 (0) 1 56 68 86 74
Jobert Editions
Recording:
Extract from the score:

Notes on the work:
Somewhere in the mountains, near the village of Paoma on the west coast of Corsica, in the middle of the wild maquis, lies a forgotten prehistoric dolmen. A set of imposing granite rocks in the centre of which the bodies of the dead used to be incinerated.
Dolmen for cello is freely inspired by this testimony of a distant civilization. With its low sounds and its micro-intervals polyphonic structure, the work follows the footprints of the site the silence of which bears traces of funerary rites of the past.