BATALION
original film soundtrack for piano, clarinet, violoncello and electronic piano,
in accompaniment of Czech silent film Batalion by Přemysl Pražský (1927)
(2002)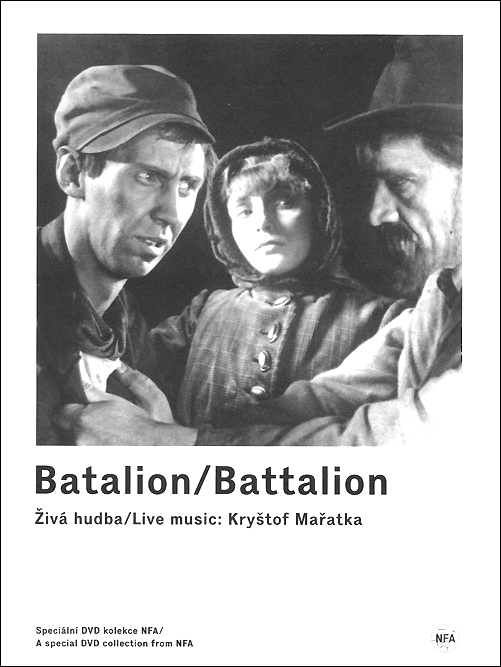 Duration: 1h35
Commissioned by the Musée du Louvre.
Premiere: Nicolas Baldeyrou (clarinet), Elena Rozanova (piano), Beatrice Reibel (violoncello), Kryštof Mařatka (conductor and electronic piano), December 14th & 15th, 2002, Auditorium du Louvre
Unpublished score
Recording (extract):

Alžběta Vlčková, violoncello / Jan Mach, clarinet / Jana Holmannová, piano / Kryštof Mařatka, electric piano and direction
Extract from the score:

Notes on the work: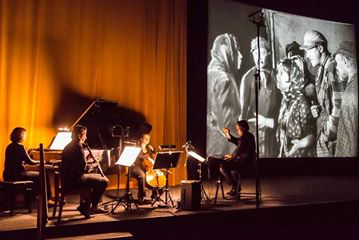 The essential plot of the film Batalion is known in its main features: Dr. Uher, a lawyer from Prague, learns that his wife is cheating on him with a hypocritical officer. Deeply wounded, he goes to Batalion, an ill-famed caff, to fulfil his mission of "advocate of the poor". Never again will he return to the bourgeois world of social hypocrisy. After years of painful existence, Dr. Uher dies in sad circumstances.
... It is the richness of the means of expression of the film that inspired the selection of instruments for the ensemble: electronic piano, piano, clarinet and violoncello. Each of these instruments is distinguished by a timbre variety specific to its instrument family (electronic instruments, keyboards, winds and strings) and by its large amplitude that creates a sound palette of extreme tessituras and dynamics. In addition, the piano expands the sound field with the left hand playing on the bass strings inside the piano, thus evoking percussion instruments.

In his days, the film Batalion was, it seems, accompanied by the song "Gone, everything is gone", and we can guess hearing it in some of the "musical" shots of the film, especially in the sung funeral scene at the end of the film.

I willingly chose not to use even a reminder of this song in my score, because, although at times, my music for Batalion certainly runs parallel to the action on screen, by its discretion, it wants above all to reinforce the visual perception and to give space to the discernment of the beauty of all the components of the art of the film. In addition, today, silent film has something historic, that we observe from a finely analytical point of view while being absorbed by the magic of the beginnings of cinema, and the music of such a film should in no way disturb this "meditation on light and time." K.M.